About Us
At Chateau Retirement Communities, we're proud of over one quarter century serving our customers as a locally owned company. Our commitment to the region and the core values of our family-owned and operated company inform everything we do. From the high quality construction and finishes of our elegant yet cozy and home-like communities to the exceptional amenities and services we offer, we're proud of our reputation as a compassionate yet professional leader in the retirement and assisted living industry.
Our heart is at the core of every Chateau community
However, as much as we tout our high standards from construction to operations, our commitment to excellence and innovative practices do not alone account for the respect and reputation we enjoy among our residents, their family members and the larger community. What drives the heart of the Chateau brand is just that - heart. Residents refer their friends and loved ones to our community (the highest possible compliment) because they tell us they feel part of a family. The Chateau family is motivated by true empathy, dignity and respect for those we serve, and the bond between multiple generations of employees and our senior residents is solid. Chateau residents talk about a true sense of belonging-of being part of a larger community that genuinely cares for their wants and desires. It is the relationships that develop between all members of our Chateau family that inspire employees to get up and go to work in the morning, and residents to call our communities home.
Engage your mind, body and spirit - your way!
Our commitment to treat every resident customer as if they were our only customer - a pledge that draws on our mission to co-create retirement lifestyles for each and every resident on an individual basis is borne out every day at Chateau Retirement Communities. From delicious and nutritious meals, to robust, diverse activities that entertain, engage and enhance the body, mind and spirit, our core values and mission statement is ever present in everything from the most important management decision to an activity director's latest choice for a scenic bus tour.
Why choose us? We invite you to come visit one of our communities and ask a resident why they chose us - and more importantly, why they choose to stay.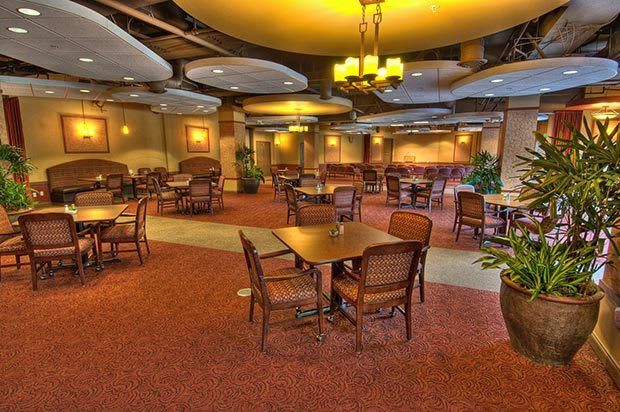 Our Philosophy
We are a local, family-owned and operated company and this directly impacts our philosophy of care and service. We are deeply committed to a customer-centric model of customer service. The resident is our highest priority, and we strive to provide each resident with an individualized, retirement experience. At Chateau, our highest mission is to work with each resident to create a unique retirement lifestyle that enables them to live happier, healthier, longer lives on their own terms.
Individualized resident care in a choice-rich environment
We are dedicated to nurturing our resident's overall wellbeing by providing choices: delicious and healthy meals, a state of the art fitness program; opportunities for friendship and socialization; stimulating activities and diverse entertainment and educational events; personal and group transportation; housekeeping and laundry services; and individualized assisted living, respite or memory care when needed.